[FEBRERO – 2011] Clean Technica – Las 5 mejores micro turbinas disponibles – (Ingles)
Esta tecnología ha estado con nosotros por siglos, pero se están volviendo rápidamente la mejor alternativa para amigos del medio ambiente y energías renovables. Molinos, o en este caso, generadores eólicos de energía, están disponibles en todos los tamaños y formas. (INGLES).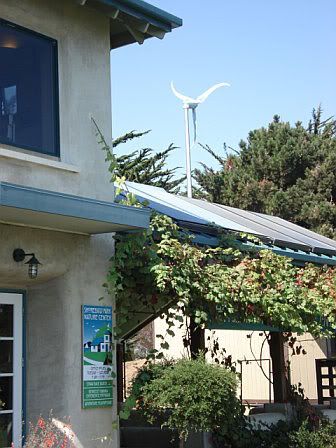 They have been around for centuries, but they are quickly becoming the darlings of the eco-friendlies and clean energy nuts. Windmills, or in this case, wind energy generators, come in all shapes and sizes.
But in actuality, how feasible and cost-effective would it be for you to integrate a small wind system at your home, cabin, or camp? It might be easier than you might think. And if the small-wind tax credit somehow holds onto its tenuous place in the farm bill, it might just be cost-effective for you to invest one that can help defray, or even eliminate your monthly electricity bill.
The economics will be different for everyone, so I am not necessarily encouraging you all to run out and buy a micro wind turbine. I will also warn you that interconnection laws vary by country, state, province, municipality, etc. So, before spending ANY money on one of these gizmos, be certain that you have an adequate wind resource, and if you are planning on connecting to the grid, that you understand the interconnection standards that apply.
Please use this information with caution: you must not cloud your judgment with mental images of backward-spinning electric meters and negative utility bills. While this is possible, you don't want to spend all of your hard-earned money on a micro turbine that your local HOA, planning board, or zoning commission never lets you put up.
I should also note that while vertical axis wind-turbines may be the wave of the future for small-wind (especially in urban settings), there are lots of companies making big claims about their products right now, and I am not comfortable with my own knowledge of the products to include them in this listing.
Southwest Windpower Skystream 3.7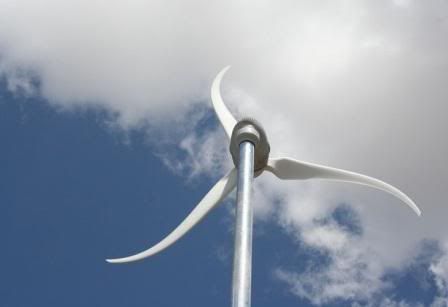 The Skystream 3.7 is the first fully-integrated, grid-tied wind energy system designed for residential use. This "plug and play" turbine is an all-inclusive wind generator (with controls and inverter built in) designed to provide quiet, clean electricity in very low winds.
Unlike many other turbines, the Skystream 3.7 will turn downwind because it has no tail rudder to keep it facing into the wind.
Cost*: $5399 (not including tower and installation materials)
Rated Capacity: 1.9 kW continuous output, 2.6 kW peak
Startup Windspeed: 8mph
Rotor: 12 feet (3.72 m); 50-325 RPM
Interconnection: Utility connected or battery charging
Alternator: Gearless, permanent magnet brushless
Voltage Output: 240 VAC (Optional 208 VAC)
Estimated Energy Production: 400 kWh/month @ 12 MPH (5.4 m/s)
Southwest Windpower Air X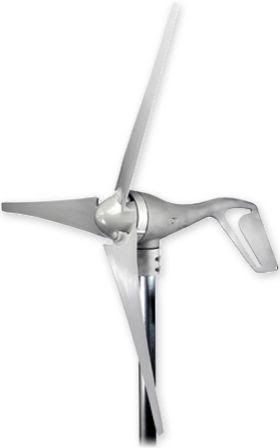 The AIR is the world's number one selling small wind turbine. The redesigned Air X incorporates a new microprocessor-based technology that results in increased performance, improved battery charging capability, greater reliability and the reduction of "flutter" noise from the machine.
The Air X is ideally designed for powering small appliances in off-grid installations, remote communications facilities, marine applications, and communities in the developing world.
Cost: $600
Rated Capacity: 400 watts
Startup Windspeed: 8mph
Rotor: 46 inches (1.14 m)
Interconnection: Battery charging
Voltage Output: 12, 24, 48 VDC
Estimated Energy Production: 288 kWh/month @ 12 MPH (5.4 m/s)
AeroVironment Architectural Wind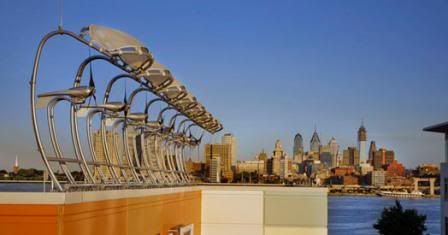 Architectural Wind is a small, modular wind turbine system designed for installation on buildings in urban and suburban areas. This is done by eliminating the support tower, reducing noise and vibration, and creating a modular housing that installs quickly and easily onto buildings, without penetrating the roof.
The turbine design has received critical praise for a while now, receiving the Red Dot International Design award and a 2007 Annual Design Review award. With a sleek, color-matched series of specially designed, highly efficient and low profile wind turbines, property owners can integrate Architectural Wind systems easily into new and existing buildings. As Preston at Jetson Green pointed out, the AeroVironment turbines have been installed at the new Kettle Chip facility in Beloit, WI that can produce roughly 28,000 kilowatt hours of power per year under normal wind conditions.
Architectural Wind is scalable and works very well in urban environments. The price and output of the machines will vary because of the drastically different requirements of individual installations. If you need more information on cost and specs, you can contact AeroVironment through their website.
Southwest Windpower Whisper 500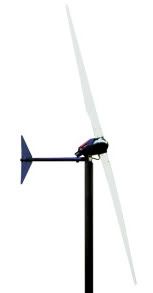 The Whisper 500 can produce enough energy to power a small to moderately sized home. Formerly the Whisper 175, the Whisper 500 was completely redesigned in 2004 to work in harsh, high wind environments.
The Whisper 500 is a two bladed fiberglass reinforced blade and incorporates a patented "angle governor," designed for quiet operations in high winds. Side-furling overspeed protection turns alternator and blades out of high winds without cutting power output.
Cost: $7,095
Rated Capacity: 3kw
Startup Windpeed: 7.5mph
Rotor: 15 feet (4.6 m)
Interconnection: Utility connected or battery charging
Voltage Output: 24, 32, 48 VDC or 240 VAC
Estimated Energy Production: 1500 KWh/month @12.5mph
Bergey Excel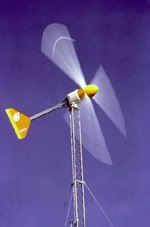 The Bergey Excel is designed for high reliability, low maintenance, and automatic operation in adverse weather conditions. It is available in two configurations: battery charging and grid-tied.
The Excel is a ruggedly built turbine that comes with a 5 year warranty. Connected to the grid, the BWC EXCEL can provide most of the electricity for an average total electric home at moderate wind sites. The all new GridTek 10 power processor (inverter) is the most advanced in the industry and it carries a full UL certification to the latest utility standards.
In a location with moderate winds, the Excel 10kw can provide enough electricity for the average home.
Cost: $21,900-$27,900
Rated Capacity: 10kw
Startup Windspeed: 7.5 mph
Rotor: 22 feet (6.7 m)
Interconnection: Utility connected or battery charging
Voltage Output: 48 VDC or 120, 240 VAC
Estimated Energy Production: 1500 KWh/month @12.5mph
*Note: Prices listed are the manufacturer's suggested retail price, it is quite possible to find them for less (nobody pays retail anymore, right?)